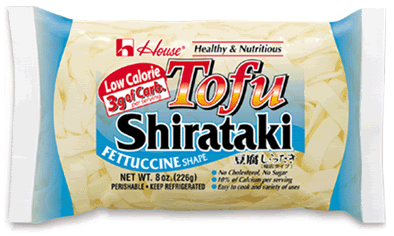 What's a girl to do if she's eating low-carb and she's craving pasta? She stays far away from Carrabbas, and heads right to the refrigerated section at Wild Oats for some Tofu Shirataki Noodles, that's what. And she uses her imagination, because while Shirataki Noodles are a great substitute, they aren't the real thing. She gets a little creative, that's all.

Tofu Shirataki Noodles are made from the root of the Konjac plant, grown in Asia. Basically, it's a type of yam vegetable that contains a lot of fiber called glucomannan. Glucomannan is suspected to be effective in controllig blood sugar. The entire package of noodles (2 servings), is only 20 calories, 0.5 fat grams and get this--3 total carbs, 2 of which are fiber!!!! Seriously???? And that's not all--Shirataki Noodles come in two varieties: spaghetti and fettucine.
So, last night, I made myself Fettucine Alfredo with one package of Shirataki Fettucine Noodles, 2 tbsp. of light sour cream, 2 wedges of Laughing Cow (one swiss, one garlic & herb), a pat of butter, a dash of salt, and a generous sprinkle of freshly grated parmesan cheese. The prep of the noodles is a little time consuming, considering they need to be rinsed well (they come in a fish-like vinegar solution for freshness), parboiled and then dried before they're ready to use. Or, I skipped the parboil step and microwaved them wet until hot. I was incredibly surprised at how good this dish tasted.
I don't think Shirataki works for every noodle dish. Recently, I tried the spaghetti noodles with meat sauce, and it didn't take. I've read that asian-style dishes, especially ones that involve stir-frying, and cheesy dishes work the best. Either way, I'm not done with these noodles, and with a little experimentation, I can have my pasta guilt-free!