I've been sidelined. I fought to the bitter end, but sadly, she emerged victorious. Last week, Vegas chewed me up and spit me out.

Right now, I'm sitting on the couch in my pj's, sipping some hot, honey-lemon tea. Instead of working, my body is incubating a nasty chest cold. It's been a really long time since I've been this sick with a cold, as in well over a year. But something about that infamous city triggered a reaction that my body just couldn't handle.

Maybe I shift too much blame onto the city itself, when instead, other factors contributed to the horrible week. For all intensive purposes, I've decided not to relive the anger, stress, tears and unhappiness of my trip. I've always considered myself a "glass half-full" person, so it's hard for me to wax so negative about the circumstances that evolved. So, I won't. I'll focus on the positive, albeit what little the trip held.

Saturday night, I joined a couple of coworkers and some of our international customers at ENVY, a fine Las Vegas steakhouse. We didn't arrive until 10 p.m., so the restaurant was pleasantly quiet. The host seated us in comfy armchairs, and delivered a basket of hot artisan breads for our starving tummies. To start with, I ordered a salad with warmed goat cheese rounds, baby spinach, pine nuts, and apple slivers, drizzled with a bacon vinaigrette. I delighted in this salad, and the unique combination of flavors. For my entree, I had the Salt Roasted Wild Salmon with Rock Shrimp Risotto. It was clearly some of the best salmon I've ever had. Period. Melt-in-your-mouth good. And the risotto was creamy and comforting. I'm salivating thinking about it. The sides were served family style, and I had bites of the Truffle Mac & Cheese, Green Beans with Applewood Bacon, and Yukon Gold Mashed Potatoes. By the time dessert rolled around, I was stuffed. But when in Vegas, do as the high rollers---and that means you eat dessert, even if you have to unbutton your pants to make room. I had a scoop of ENVY's house frozen treat, the raspberry sorbet, and stole a bite or two of the other sugary concoctions floating around the table.

After dinner at the upscale Bellagio Buffet on Sunday night, I parted ways with coworkers and explored the hotel from end-to-end. Disappointingly, the Ansel Adams photography exhibit was closed for the evening, but a walk through the conservatory and botanical gardens lifted my spirits.

Continuing on my Bellagio stroll, I visited my very first YSL, Hermes, and Bottega Veneta. I didn't feel worthy enough to even fondle the goods, but I got an eyeful anyway.

The walk down designer lane led me to the front of the hotel, just in time for the Bellagio Fountains show. Elton John is currently performing daily at the Bellagio, so the fountains were timed to one of his most famous ballads. And by the way, the voice singing on the video is NOT me. It belonged to some obnoxious chick behind me, who was presumptuous enough to think that we all wanted to listen to her sing.
My evening ended underneath the beautiful spread of Italian Murano glass flowers, layered atop the Bellagio lobby ceiling.
Fast forward to Wednesday night-- I was exhausted after a long day at the trade show, and was in immediate need of some cosmetic therapy. After a really long walk to the Venetian, in not-so comfortable shoes, I arrive at the Sephora store. As I walk in, I realize that something's just not right--the floor is dirty, and why is there sawdust on the cosmetics? Well, evidently Sephora is undergoing a huge remodel, so the floor is ripped up and fixtures are strewn all the way to the back of the store. I wanted to cry.
Was I going to let that stop me for spending my coveted gift cards? Um, no. I begin browsing, thumbing away the dust, and even kicking a nail out of the way as I walk down the NARS aisle. I walk over to a Sephora employee, and ask where I can find
Paul & Joe
, one of my all-time favorite makeup brands. I'm horrified as she tells me that in the new remodel, Sephora is axing some of their lower-selling brands, and Paul & Joe are among the list of casualties. I want to scream and throw myself on the floor in fits of a tantrum, but as she tells me that I can still buy the products online, I grimace, grit my teeth, and walk away. Would I now allow that setback to deter my plans? No. I bought anyway.
Here are my treasures, in no particular order: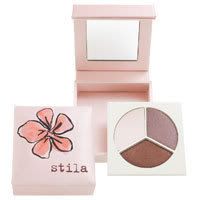 Stila Spring Eyeshadow Trio in Ravishing Rose
I love Stila's eyeshadows because they're a fine, milled powder that stays put all day long and comes in a colors that compliment my skintone. I already use Viola, which is the rosy midtone in this palette, and I was going to purchase Barefoot Contessa, the chocolate color. I haven't been able to find out the name of the pastel pink highlighter in the palette, but I love how soft it looks on my browbone. I wanted to buy the Pretty Pansy palette too, but I had to practice some restraint!
Additional eyeshadows purchased:
Dior 1-Couleur Powder Mono Eyeshadow in Amber Plum
NARS Single Eyeshadow in Fathom & Ondine
Bare Escentuals i.d. bareMinerals Glimmer in Celestine & Heart
Make Up For Ever Corrective Makeup Base in Green 01
Even though my rosacea is improving with the prescription from my dermatologist, I still have some blotchy red patches because my skin is so fair. Using the
Sephora Professional Platinum Foundation Brush
I purchased, the base smooths my complexion. This product is going to last me forever, and a little really does go a long way. I have to be careful to really blend around the corners of my mouth, nose, and eyes, because it's easy for the green to settle in the creases.
CARGO Blush in Louisiana
My staple winter/spring blush,
NARS Orgasm
, is perfect when my skin is porcelain white. But now that I have a little tan, I need a bit more color, yet it's not time for my
Benefit Dallas Powder
. I am obsessed with CARGO's line of bronzers, and I'm equally pleased with the quality of their blush. My
Sephora Professional Platinum Natural Slant Brush
is perfect for distributing a sweep of Louisiana across my cheekbones. And that's no easy feat with my round face.
Sephora Ultra-Shine Lip Gloss in Red 24
Cherry red works for me. And red lips are hot right now. My decision waivered between
Vincent Longo's Perfect Shine Lip Gloss in Rede
, the sparkly gloss I borrowed from Amanda on New Year's Eve, and the Sephora gloss. In the end, the Sephora gloss won, due to the pricetag. And I'm no less satisfied with the color or quality!
Sephora Long Lasting Metallic Eyeliner
I snapped these up in Aubergine, Blue, Copper and Green. They glide on, dry fast, and create drama. Me likey.
Sephora Concealer Brush
I will never use my fingertips again when applying my amazing
Make Up For Ever Full Cover
. I had no idea what I was missing.
Annnnnnd I'm spent. Literally. Cosmetics sure do make me happy.