Flight of the Conchords sing a song called, "If You're Into It." Bret croons to his new girlfriend, Coco, and Jemaine provides accompaniment on both vocals, a toy piano, and the Bell Lyre, a.k.a. the portable glockenspiel. It's rather inappropriate, but if that doesn't bother you, it's hilarious. Otherwise, keep reading.



I digress...

Here's what I'm currently into:

My Berlitz French Phrase-a-Day desktop calendar
Today's entry is "Etes-vous celebataire?" That means, "are you single?" Interesting that the French word for "single" borrows the latin root, "calibatus," meaning "celibate." Just sayin. Anyway, this was an entry from last week:



It's been hanging outside my office, and has become a commonly uttered phrase around the marketing department.

My Hello Kitty stamp
I found this while digging in the Dollar Bin at Target. From time-to-time, Tar-zhey will carry cheap Sanrio items, and my inner elementary school girl takes note. When I was in fifth grade, I belonged to a Sanrio Club, and we met on the concrete steps out on the playground. I think the club lasted for about three days and then we disbanded. But it was fun carrying around my Kerokerokeroppi clipboard for a little while. Obviously, I didn't quite leave Sanrio in the past, and can now stamp Hello Kitty's head on my PPS routing sheets.



My Daily London Fog
It's really a tea latte, and while I stray from the original recipe, it sure is better than any pathetic Starbucks creation. I take one part hot water, add 1/4 part sugar free french vanilla creamer, two Splenda packets, and one Bigelow Earl Grey tea bag. I love spending my morning with the Earl.

The "Sia" station on Pandora
Pandora is customizable, internet-streaming radio. I don't know how I'm able to listen at work, but that must mean my computer somehow reaches around our company firewall. Big Brother has banned Pandora access from all company computers. So, I'm not that I'm complaining. I'm digging the "Sia" station right now, featuring the likes of Zero 7, Kate Earl, Feist, Mazzy Star, Yeah Yeah Yeahs, Amiee Mann, Thievery Corporation, A Fine Frenzy, Cat Power, Fiona Apple, and Frou, among others.

Dried Mango Slices from Trader Joe's
Siebe brought a package of these flat orange beauties to our Bible Study retreat. It was like instant obsession, and now I'm hooked. Chewy, sweet, and satisfying. I imagine dried mangos will be on the banquet table when I get to Heaven someday.

Redbox
Whomever is the genius behind this Redbox contraption may as well be my idol. I'm pretty cheap, so their one dollar price-tag on new releases suits my fancy well. And, there are five Redboxes located within three miles of my house, making it convenient to rent the mindless droll Hollywood pumps out these days.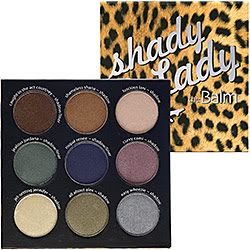 Shady Lady Palette from The Balm
Santa (a.k.a. yours truly) stuffed my stocking with this nine-shadow palette for eyes at Christmas. The tones are woodsy and earthy...just the way I like my men (in case you forgot).

Possibility
I'm excited about someone and something on the horizon. Hopefulness feels good.

Dead Sea Nail Buffer
My sister-in-law, Brittany, got accosted at the mall a little while back by a kiosk salesman, pimping the "Dead Sea Nail Buffer Block." She reluctantly gave him her hand, and he got her fingernails shining like glass in no time. She mentioned that she almost bought one for me for Christmas because she knows I like to do my own nails, but the little bugger cost 30 bucks. So, my sweet brother, Ben, got online and found the same thing for pennies on the dollar, and gave me one for Christmas. I love this little gem, and it really does create a blinding sheen, much better than the drugstore buffers. My fingernails shine like the top of the Chrysler Building!

Running a pen out of ink
I prefer certain types of ink pens. I must be my father's daughter, since my Dad asked me for two boxes of his favorite gel pen for Christmas. Today, I sent a green Uniball Vision, fine point pen to the office supply graveyard, i.e. my trashcan, as it ran out of ink. And, I found the experience strangely satisfying, as if I saw something through to fruition. That's not all... The retiring of one pen means that I get to select a new pen out of my pen cup. The possibilities in my pen cup seem endless, and I chose a red Uniball Vision Elite.

It's the simple things in life, folks.