Award Show season is officially underway, and while I could care less who wins what, I love feasting my eyes on the gorgeous dresses! Tonight, actresses sashayed across a soggy red carpet at a rainy Golden Globes. I had to make myself narrow it down to my top ten favorite dresses, but I left room for five honorable mentions.
10. Her Twilight character was fashionably minded, so it shouldn't be a surprise that Anna Kendrick knows how to pick an award show dress. Her intricately beaded Marchesa gown lends itself to the A-list Hollywood players.
9. If your dress boasts sequins and a belt, you're guaranteed to make my best dressed list. Paula Patton's Kaufmanfranco creation is sure to score high on the critics' lists too.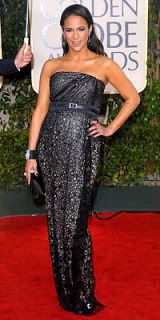 8. Ginnifer Godwin has good consistency in her red carpet choices, but she's not afraid to be daring. Not many people can pull of a pixie 'do, or a dress that makes a statement like this Vionnet cobalt number.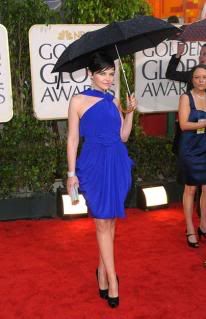 7. America's favorite administrative assistant, Pam...I mean Jenna Fischer...traded in her cardigan and oxfords for a 1920s flapper-style Halston gown. It suits her slim figure well. But I did see Jim on the arm of Emily Blunt. I hear they're engaged. That's just wrong.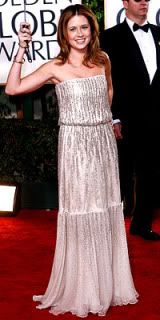 6. Who says that comedy and glamour don't mix? I'd like to high-five Amy Poehler for her chiffon Jay Godgrey choice, but that probably wouldn't be very ladylike. The floral touch at the shoulder is nice.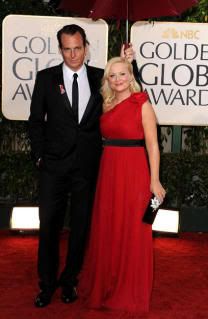 5. I'm not sure if Penelope Cruz has ever looked anything but elegant on the red carpet. She's not afraid of classic black and lace, and I imagine she floats across the pavilion in this dress from the Giorgio Armani Prive Collection. It's hard to tell from the photo, but adorning this dress is 69 carats of Chopard diamonds. Seriously.
4. Young Hollywood has a new face, and it's Kristen Bell. This Jasmine di Milo satin frock gives a girl curves in all the right places, and shows off her fabulous gams. And it still manages to exude class and style.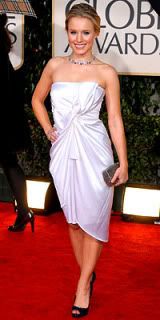 3. I'm not ashamed to admit that I want to be Tina Fey, with all of her quirkiness. I probably wouldn't have chosen this Zac Posen dress for the red carpet, but she somehow pulls it off. I think I can hear Gene Kelly "Singin' in the Rain."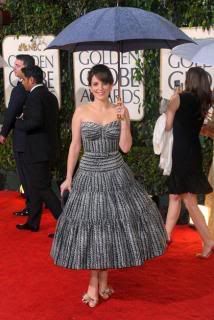 2. I squealed with Glee the first time I laid eyes on this dress. It's clearly Oscar de la Renta and has the tulle skirt to prove it. Lea Michele has a long career ahead of her, so why not bust out a top designer dress on your first red carpet run?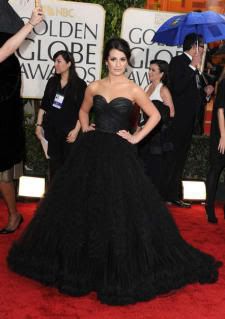 1. I love, I love, I love. Sand is a difficult color for success, but this classy lady, Jennifer Morrison, wins the evening. The dress is made by Puerto Rican designer, Luis Antonio, and satisfies my deep desire for ruffles. Lots of ruffles. Look at the way she's got her hand on her hip. She knows.
Honorable Mention - As a woman ages, it becomes a bit more daring to wear bold jewel tones, like the royal purple Bottega Veneta dress worn by Sandra Bullock. But she knows that her big night needs a big dress. Nice job, Sandy.
Honorable Mention - Old Hollywood never goes out of style. Toni Collette glams in this Elie Saab beaded, art-deco gown. She's golden.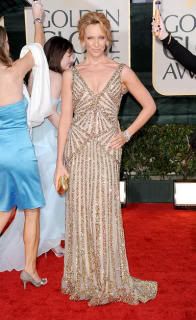 Honorable Mention - She's nuts, and her bosoms are a bit in your face, but Mariah can still pick a win with a Herve Leger dress. Girl's got an hourglass figure like the opening credits of Days of Our Lives.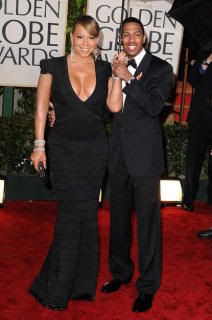 Honorable Mention - Here's that sequin thing again. I can't help it. If it sparkles and glitters, I'm attracted like a moth to a flame. This Stella McCartney dress is a step outside the box for her, and I'm digging it's edge. But, Anna Paquin, the shoes have got to go.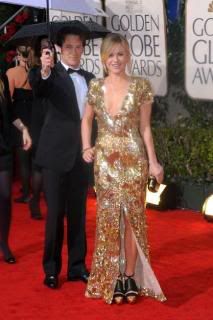 Honorable Mention - Eggplant is a safe choice, but that doesn't mean it doesn't impress. Rose Byrne's Lanvin column dress is elegant and chic.