I only have a few weeks left before the big day. No, I'm not talking about Christmas. I'm referring to New Year's Day, the day that I unleash a new boxed calendar, poised to sit atop my desk at work for the remainder of 2007.

The quest for the perfect desk calendar is of paramount importance. Two out of the past three years, I've had a bum calendar. Not only does a desk calendar set the mood for the entire year, but it aims to deliver happiness, during an otherwise bleak day in corporate America.

At the beginning of my first full calendar year of employment at Adtec, the year 2004, I purchased a Mary Engelbreit desk calendar. Throughout the year, I was pleased with my purchase, as it provided uplifting quotes and an abundance of heartwarming illustrations. The amount of joy this calendar brought me solidified the need for and importance of a desk calendar to enhance the office experience.

In 2005, a coworker gave me a desk calendar of misspellings, misquotes, misprints, etc. found in publications, heard on television or radio, and on public signage. Considering my journalistic background, one might think I really liked this desk calendar. Wrong! It's intent was for humor, but only approximately one in 50 days of the calender succeeded. If you do the math, that's only 7.3 days the entire year that enduced laughter. Each day, I would physically whine, boo, and hiss at the poor attempts at humor, and it got to the point where my lame calendar was the butt of many of my officemate's jokes.

After a year of depressive calendar humor, I was a bit apprehensive about experimentation. I needed something safe and dependable for 2006. I purchased another Mary Engelbreit desk calendar, ready to renew my spirit and encourage inspiration. I guess I got what I paid for, because the 2006 ME calendar was almost identical to the 2004 ME calendar. Sure, the illustrations were marked for different dates, and occasionally, there would be a new quotation or cartoon, but for the most part, it was exactly the same calendar. You can imagine my disappointment. And believe me, my calendar snafus did not go unnoticed by my officemate, using the opportunity to once again, make my calendar the subject of a long-running joke.

I'm resolved to make 2007 different and the stakes are high. I spent some time on Calendars.com and was able to narrow my calendar search to a list of six choices. I need your help in making a decision. Below is a synopsis of each calendar, and my argument for its inclusion on my desk at work. Please provide me with your choice in the comment section. Or, if you'd like to recommend a calendar not listed, please do so. Here they are, in random order: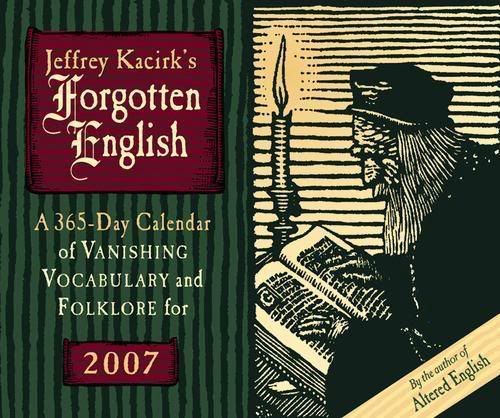 Forgotten English presents arcane, archaic words related to vanished professions, objects, activities, customs, and states of mind and body. In addition, obscure fêtes and festivals, notable birthdays and anniversaries, and dubious medical, hygienic, and culinary procedures are also noted. A learned but lighthearted lexicon is essential reading for the collector of long-lost language. I'm intriqued by this calendar because of my love of all things vocab.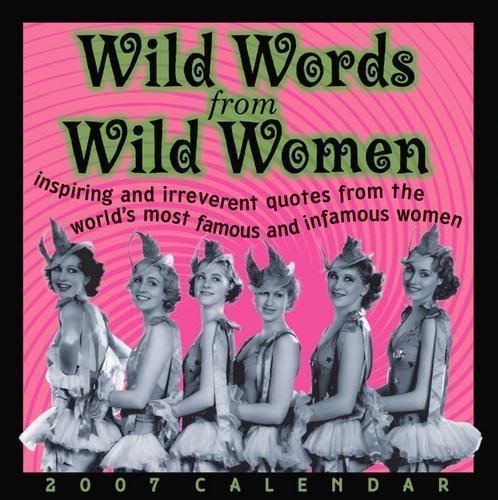 Wild Words from Wild Women features well-known female athletes, politicians, entertainers, and humanitarians. The women dish on everything from men to motherhood to martinis, focusing on vice, rather than virtue. Constantly seeking wisdom from strong women, this calendar will provide me with a daily dose of femmie power.



Would You Rather...? asks hilarious questions created to perplex, provoke, and amuse, placing you between the rockiest of rocks and the hardest of hard places. Consider mind-blowing dilemmas in the areas of curses, sex, fantasies, deaths, tortures, and more. Over the course of time, I've played the games "what would you do if..." and "would you still be my friend if..." with many of you. Games like this express my wacky-quirky side. If nothing else, this calendar would provide some interesting blog fodder...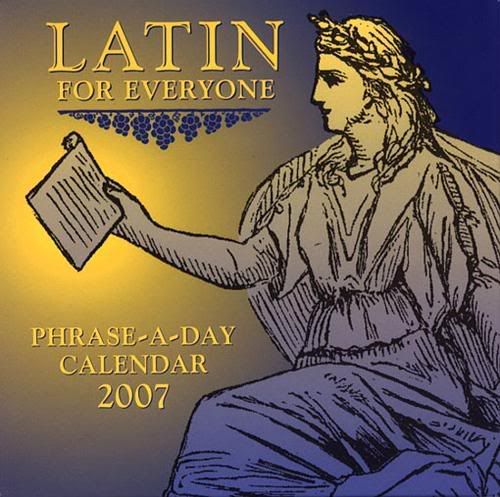 Latin Phrase-a-Day provides amusing and incisive quips and quotations from the mother of the Romance languages. Each is followed by a phonetic rendering of the phrase and its English translation. In my quest to further familiarize myself with this ancient language, this calendar will allow me to "crescat scientia vita excolatur."


The Bad Girl's Rage-a-Day offers daily tips and tricks for getting out of dud dates, making home beauty shrines, and inspiration from notorious Bad Girls of history. Sometimes I need an excuse to cater to my inner brat, and this calendar may be the perfect stumbling block. I actually purchased this calendar last year as a gift for Amanda, so any primary source input from her is appreciated.


Wacky Websites leads to zany, intriguing and entertaining WWW destinations. My unhealthy obsession with the Internet, combined with my penchant for random factoids, can finally be satisfied. This calendar will feed my addiction.