I have several thoughts that I'd like to share with you today.

Thought #1

I battle allergies on a daily basis. I'm allergic to a variety of plant-pollens, dust and mold spores. My allergies have also been known to inflame on days where the air quality is poor. Amidst discussions with friends about our shared allergies, I've often mentioned how I can tell the air quality is suffering based on my allergic reactions on a daily basis. I won't name any names, but there is one particular friend o' mine that consistently mocks me when I mention the air quality.
This friend of mine---we'll call her Adnama---thinks the whole "air quality thing" is preposterous, nothing more than a sham. In case others of you are as uninformed as she, let me provide for you a little tutorial, compliments of AirNow:


The "Air Quality Index" (AQI), is an index for reporting daily air quality. It tells you how clean or polluted your outdoor air is, and what associated health effects might be a concern for you. The AQI focuses on health effects you may experience within a few hours or days after breathing polluted air.
The Environmental Protection Agency (EPA) calculates the AQI for five major air pollutants regulated by the Clean Air Act: ground-level ozone, particle pollution (also known as particulate matter), carbon monoxide, sulfur dioxide, and nitrogen dioxide. For each of these pollutants, EPA has established national air quality standards to protect public health.
Alerts range from "Good" to "Hazardous," with four levels inbetween.
Every morning, I watch Good Morning America. Among the news segments, the News Channel 2 staff provides local news updates, weather forecasts, traffic advisories, pollen counts, and yes, air quality alerts. See, I fall in the category of "sensitive groups," meaning that an AQI of 101 to 150 (symbolized by the color orange), is unhealthy for me and causes an allergic reaction, resulting in headaches, nasal congestion and fatigue.

Perhaps Adnama will be satisfied with this explanation. If not, she's just "bastard people."

Thought #2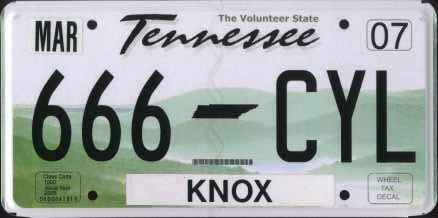 Sometime this weekend, I replaced my old license plate with a new license plate, recently issued by the state of Tennessee. I was not overwhelmingly in love with my previous plate, but I found the design to be simple and aesthetically pleasing enough. It was mediocre at best. However, I strongly dislike the new Tennessee license plate design. It's not only faded and boring, but also displays outdated font. It's a major step down from the last plate. And worst of all, the new plate showcases nothing indicative of Tennessee's rich tradition. Yes, it features Tennessee's rolling hills, but you can barely see them in spite all of the lettering. "Boring, boring, boring, boring, boring..." Why do I care so much??? Because I do, that's why.

Thought #3
Last night, the gals and I spent p.m. at PM Nashville, a Belmont-area hipster-sushi joint. "It's a Zen thing, like how many babies fit in a tire." We looked hot. Here we are for your viewing pleasure.
Amanda, Amy, Lana, MA, Natalie & Sarah
Thought #4
I watched Waiting for Guffman twice this weekend, and laughed heartily both times. I also made reference to the movie several times in this post. "Which brings me to the number 5..."
Thought #5
"There are five letters in the word Blaine. Now, if you mix up the letters in the word Blaine, mix 'em around, eventually, you'll come up with Nebali."