It rains everyday in Tampa. Tina informed me that the Native American meaning of Tampa closely associates itself with "lightning." It makes perfect sense, because Tampa is well-known for it's monstrous thunderstorms. This suits me well, because I heart thunderstorms. I saw some rather spectacular displays of lightning while in Tampa this past weekend, but the rain managed to hold off for some serious beach and pool time while visiting Tina and Patrick.

My flight, although delayed, arrived in Tampa early Thursday evening. Tina and I made our way to Ybor City to have dinner with a few of her friends at the Green Iguana. Ybor City is a chic historic district in Tampa with a ton of unique restaurants and nightlife. Tina was hoping we'd run into "The Senator," a local Ybor City celebrity, known for showing up at nightclubs dressed provacatively in women's lingerie. Unfortunately, I was not graced with his presence that evening.

Tina and I decided we needed a little pampering Friday afternoon, so we headed to a local nail place to get spa pedicures. A short little Asian man approached me and led me to the massage chair and he began to beautify my toes. About halfway into the pedicure, he begins to rub this salt scrub into my ankles and lower calves. This is normal for a spa pedicure, so I didn't think anything of it, until it began to hurt---as in, highly abrasive sandpaper scouring my legs. But I toughed it out and told myself that it "hurts so good." After washing off the salt scrub, he then begins to massage my calves, applying unnecessary amounts of pressure with his thumbs---and seemingly paying extra attention to the large bruise I have on the inside of my calf. I'm wincing in pain at this point, just praying for him to be done soon. All of a sudden, he stops and straightens out my other leg. He balls up both of his fists and proceeds to beat on my legs, up and down, side-to-side. I'm so shocked and my mouth falls open, and then I hear Tina snort loudly from the chair next to me. I look over at her and she's practically shaking with silent laughter. This, of course, causes me to start laughing and neither of us are able to get a grip. Thankfully, my beating finally ended, but by Sunday afternoon, I began to notice several conspicuous bruises on the insides of my calves.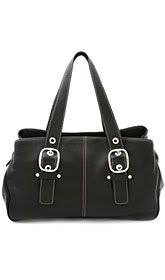 Tina and I were in need of some serious retail therapy, so we made our way to the International Plaza mall. My quest for the perfect black purse for fall finally came to an end with my purchase of this Kate Landry creation. Tina talked me into some Haagen-Daz, and I discovered a fabulous new flavor combination, Mayan Chocolate. It's a swirl of South American-style cocoa and cinnamon, two of my favorite flavors. I will be seeking this out at my local grocer.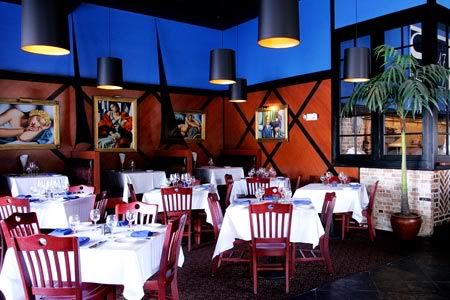 Friday night, Tina, Patrick and I
drove to the trendy SOHO (South Howard) area of Tampa, where we dined at an Italian-Asian fusion restaurant, 717 South. While we waited an hour and a half on a table, we entertained ourselves with the middle-age divorcees flaunting their implants and their fake-n-bake tans to the local sugar daddies. We didn't actually sit down to eat until almost ten p.m. that evening, but the melt-in-your-mouth, freshly grilled grouper and wasabi mashed potatoes were worth the wait.

Saturday morning, the three of us drove to Clearwater Beach to spend a relaxing day soaking up some Florida sun. We passed the construction of the new Scientology headquarters in downtown Clearwater. The building is massive and has several winding, octogonal glass towers, which led to some hilarious jokes about how Tom has locked Katie in one of the towers while he is voodooing Baby Suri in the opposite tower.

Clearwater Beach is on the Gulf of Mexico side of Florida, but for some reason, it doesn't quite look as beautiful as the Emerald Coast. The water is considerably less seaweedy, but it's not quite as turquoise. It did afford me some fine photo ops though. We enjoyed some time in the sand and surf, and headed to a nearby pool to spend the rest of the day.


A relaxing afternoon was spent on the deck of Frenchy's Rockaway Grill. On the way home that afternoon, we debated this and this. Tina and Patrick know what I'm talking about.

All in all, the weekend was very relaxing and quite a bit of fun. Tina and Patrick are always such good hosts and I can't wait until my next visit!