My ears are ringing. Still. From last night. I'm a little concerned.

Although I was in a heinous mood yesterday, Amanda, Mason and I piled in the car, destination Starwood in Shantioch (Antioch), for the
Counting Crows
concert, the fourth stop of the Queen MAB summer concert series. The weather people were forecasting rain, and I had resigned myself to sitting in the mud because the grass seats were so cheap. We arrived, soon followed by Amanda's friend Maury, and pitched camp about mid-way up the hill. My spirits were slowly lifting, as the heat had broken and it was shaping up to be a nice night of music under the stars.
I've been a Counting Crows fan for a very long time. In fact, their
August and Everything After
album was the very first CD I ever purchased. I remember buying it. I used to say that they were my second favorite band, with Ben Folds Five leading the pack, but that was before I really got into Ben Harper and Death Cab and Cake. I'm not really sure how I would rank those five now, but you get the point. I was very excited about seeing Counting Crows live. Especially since I'd never seen them live before.
So, I'm sitting on my beach towel, enjoying the sounds of the pre-show music waft through the air, and Rhonda and Joe bound up the hill toward us. Those braggarts begin to tell us about how a friend of Joe's, that works at a local radio station, had given them second row seats for the concert. And then before I know it, Joe is on the phone and he has managed to acquire two more seats, on the fifth row, for me and Amanda. Who's a happy gal?
I felt a little bad about ditching Mason and Maury, but I got over it really fast when I got to my new seat. The opening act, a guy by the name of
Eliot Morris
, was entertaining with his acoustic, southern blues. Next up were the
Goo Goo Dolls
, of which I'm not really a fan. They didn't put on a bad show, but it was hard to make out Johnny Rzeznik's vocals through all of the heavy guitars. And I was a little frightened by the
freaky
bassist, whose voice sounded as if he'd sucked helium before he sang. Halfway through the Goo Goo Dolls set, Rhonda and Joe waved Amanda and I up to the front of the stage with them, and for the rest of the show, we stood up on the front row.
Eliot Morris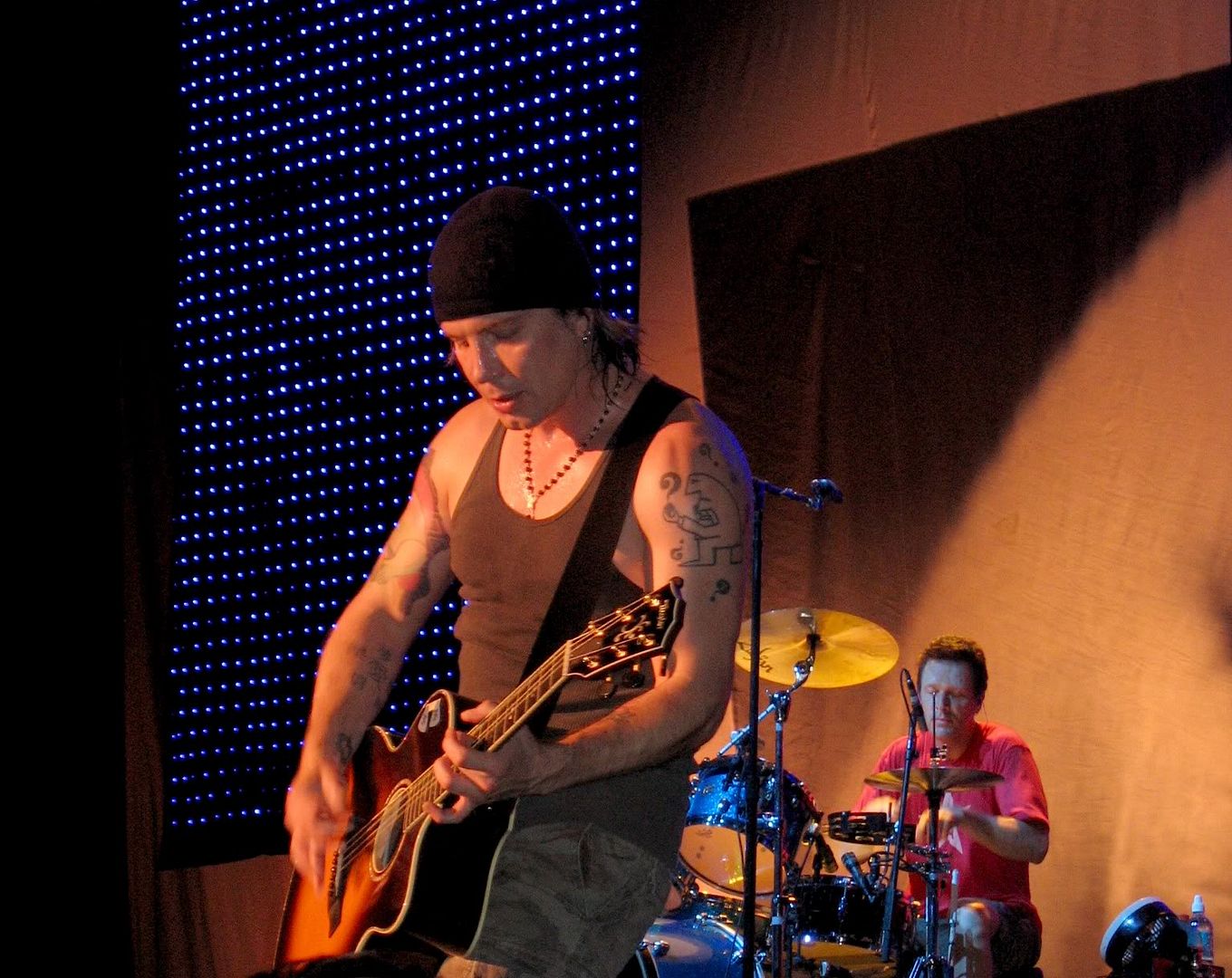 Johnny Rzeznik of Goo Goo Dolls
Before the show began, I recognized an acquaintance-friend of mine from college, David, who is a videographer and freelances concerts at Starwood. He happened to be stationed right in front of us, so all night, Rhonda, Joe, Amanda and I were pictured singing and dancing on the two large side screens. "Smiling in the bright lights, coming through in stereo..."
Counting Crows hit the stage soon after, and I was very excited to stand mere feet away from Adam Duritz. Overall, I was pleased with the set list. My favorites of the evening were Omaha, Perfect Blue Buildings, Time and Time Again, and Have You Seen Me Lately? It's no surprise that my favorite songs of the evening were from their first two albums. I didn't hear many, or really any, of my all-time favorite Counting Crows songs, but they are so consistently good in their songwriting that it was still an enjoyable experience.
I'm snapping photos like a mad woman, and at one point, Amanda asks me, "are you afraid you'll forget what he looks like?" I retorted that I feel as though it is my responsibility to the Queen MAB Faithful to document the occasion. Plus, I may take 150 photos and end up with 20 I'm pleased with. Don't question the photographer while she creates magic on film.
The fifth and sixth stops on the Queen MAB summer concert series have been canceled. I was planning to go see Rhett Miller and the Believers at the Mercy Lounge on Thursday and then Andy Davis and Dave Barnes at City Hall on Saturday, but I'll be at the Wilson County Fair and in Knoxville, respectively. But stay tuned, because the Queen MAB summer concert series will pick up again in September!