Last week was a lot of fun on a lot of levels and I don't really even know where to begin. Our trade show was very relaxed in nature and afforded me many an opportunity to socialize and create some oh-we-won't-go-there moments with some of my favorite co-workers.


From time-to-time, I will choose a word or a phrase from my ever-expanding vocabulary, to beat to death. My word of the week this time was "shinkta," compliments of Emily. Now, I'm not sure how you actually spell shinkta and I'm also not really sure what it means. At the time, I thought it was a Romanian curse word, but was informed by Emily that she has no idea either. Nevertheless, I used it as my token curse word for the week, inserting it into every conversation, when appropriate, and creating variants, such as "shinktiferous." By the end of the week, I had the majority of our staff shouting shinkta right alongside me.
Tina picked me up at the convention center on Friday evening for my weekend with the O'Connells in Tampa. I was SO excited to see her and infuse some sanity back into my life. And she even got to meet a coworker of mine, who has been the subject of a running joke between the Menagerie.
Tina and I drove to Tampa and met Patrick back at the house. Turning into their road, there is a giant pond, where an alligator resides. He must of known I was visiting, because his head and back poked just above the water so I could see him.
Tina and Patrick's new home is simply lovely. I don't know how it's possible to turn a Florida home into anything but a cool, beach bungalow, but Tina and Patrick managed otherwise. Immediately when you walk in, you feel a sense of warmth and coziness. Needless to say, their home is very hospitable. I also met their house tree frog that lives just above their front door, as well as a lizard family that likes to climb up the screens of their outdoor patio.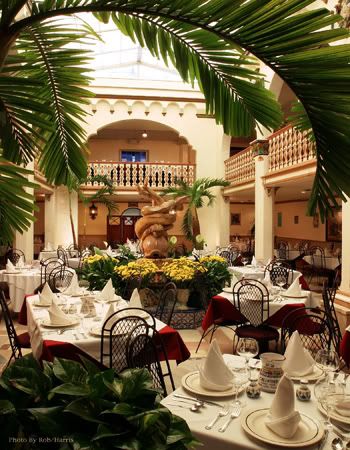 Friday night, we hurried to get ready for dinner, as we had reservations at
Colombia
, in Ybor City. Colombia is Florida's oldest Spanish restaurant, and there's good reason it's stuck around since 1905. The food is traditional Spanish with a Cuban twist. I had grilled mahi-mahi with yuca rice and plantanos and mojo. But the best part of the meal was the house Sangria--the three of us split a pitcher and there wasn't a drop left by the time our meal was finished.
Saturday morning, Tina and I went to her Yogilates (Yoga-Pilates) class at Namaste Yoga Studio. I had so much fun that I've found a new hobby. Tina's instructor, Stephanie, was so good at her job. She's challenging, but encouraging. I will be looking into Nashville options, to take a class or two, very soon.
After we stuffed our faces with Sonic extra-long cheese Coney's, we headed back to the house and recruited Patrick to the pool. Because Florida was (up until this weekend) in a bit of a drought, it was very, very hot, but minus the suffocating humidity. We swam until pruny and then got ready for an evening in downtown Tampa.
We had reservations at
Timpano Chop House & Martini Bar
for later in the evening, so we stopped off at
Anthropologie
, the shabby chic mecca of goods and one of my all-time favorite stores to visit, that I only hope Nashville could acquire someday. Unfortunately, my pocketbook didn't meet the requirements for a purchase, but it was nice to look around anyway. We spent a little more time shopping around the trendy and urban Hyde Park area.
The three of us had a little time to wait for our table when we arrived at Timpano, so Tina and I took advantage of their full martini list. I had a Hollywood Martini, some kind of pineapple and blackberry concoction and Tina's martini tasted delightfully like grape koolaid. We finally got seated and ordered quickly. I had the Shrimp Fra Diablo, with fettucine, tossed with goat cheese, pine nuts and spinach in a rosa sauce. It was excellent.
We had some funny moments at Timpano that evening. The restaurant was very crowded and busy, and our waiter, Vitali, was running around, all over the place, like a chicken with his head cut off. Evidently, he was in such a hurry, that he spilled an entire glass of red wine on the two women sitting right beside us, as well as himself. I overheard Vitali, between profuse apologies, offer to retrieve a Shout wipe for the woman.
Now---because of my extensive knowledge of the science of stains, I knew that a Shout wipe, ideal for greasy stains, would not be best to combat the damage of red wine on a white shirt. I had in my purse, a tool that would almost instantly make those red wine stains disappear. So, I grabbed my purse, whipped out my Tide Pen, tapped the woman on the shoulder, and promptly offered her some peace of mind. Of course, the woman didn't know how to use one---so I had to instruct her. "It's easy, like you're using a paint pen," I said. Tina made some comments about how I'm a stain expert because I've been known to host a side salad on my boob shelf. I'll claim the dork award for the evening, but it sure does feel good to help someone out.
As if the night could get any funnier--- Vitali walks back over to our table with a divine assortment of tiny desserts, all made in shot glasses. As Vitali is enlightening us on the sugary possibilities, Patrick, in his excitement, waves his hand across the table and sends his water goblet flying through the air and all over Tina. We all burst out laughing and Patrick says to Vitali, "man, you're rubbin' off on me!"
I finally got home from Tampa at about 11 p.m. Sunday night and I was exhausted. I'm thankful to have such good friends in Tina and Patrick and can't wait until I see them again in August!