I could apologize for my delinquency in posting about my Las Vegas trip, but since I am the Queen of my blog, I make no apologies.

Having said that, here's the recap. Be sure to buckle-up.

I board the plane for Vegas early Friday afternoon and settle in for the four hour-long trip. Here's a tip to remember the next time you fly to Vegas: always sit on the right side of the plane, preferably at the window. The landscape from Tennessee to Nevada is absolutely beautiful and evolves from rolling hills to flat plains to deep canyons to mountains. The crop circles of Oklahoma are amazing, pieced together in square plots of land forming one very large quilt. The bird's eye view of the Grand Canyon is something to write home about (or maybe to blog about) as well.

I love the climate in Las Vegas. It's arid and dry, which takes some time to get used to, but is overall quite pleasant. It's warm, but cool at the same time, as if that's possible.

My plane arrived late Friday afternoon in Vegas, and after checking into the hotel and running some errands, my co-worker Traci and I decided to eat dinner. We headed over to Bahama Breeze (which I so wish would make its way out to TN) and sat down on a couch in the lobby to await our table. While we're waiting, I look up and notice something strange out of the corner of my eye. I look over and see two very tall and bulky men walking past, wearing women's clothing, high heels and all. Then out walks a few more cross-dressing men, just as decked out in their wigs, makeup and jewelry as the ones before. All in all, about 20 additional cross-dressers mill around the lobby and exit the building. But oh yes, it gets better. Out of the same back room where the previous wo-men had exited, walks out a girl, about mid-twenties, in a huge princess-style wedding gown, complete with a veil. Following her are four cross-dressing men in bridesmaid dresses. Following the bridal party is another person in a similar princess-style wedding gown, except this time, it's a middle-aged man.

I'd like to say that it was an isolated incident, a freakish occurrence only to be forgotten about the next day, but afterall, it is Vegas. TAR moments were bountiful throughout the trip, but past a certain point, you begin to regard the abominations as normal, just part of the scenery.

After working for a bit during the morning on Saturday, Traci and I finally found the time to make it out to the pool. The weather on Saturday was fabulous and warm. The sun blazed down overhead, but a cool desert breeze blew, so similar to an ocean breeze that I felt like I was in Destin. For five hours I baked on a float in the pool, catching up on my reading, and managing to tan slightly without a burn. I'm really proud of myself for the concern I've shown for my epidermis so far this year.

That evening, we went to eat at the Rio Hotel & Casino, to the Carnival World Buffet. Normally, I'm not a huge fan of buffets because I find them to be overly germy. But this buffet is not your typical buffet. First of all, it is consistently recognized as the best buffet in Vegas. It's a huge restaurant and boasts all sorts of cuisine, from Italian to Asian to Southern Homestyle. And the best part is the dessert buffet, rather, the dessert continent. I've never seen so many handmade tartlets, mini fudge pies, fruit compotes, bon-bons, eclairs, and a variety of pastries and cakes.

Unfortunately, I worked on Sunday morning, making final touches to the booth. The majority of our sales staff met with customers on Sunday night, so I had the time free to shop. I headed over to Caesar's Palace at the Forum Shoppes, my favorite shopping destination in Vegas. I normally am unable to afford any of the couture goods found within Caesar's shops, but I am of the rare variety of gal that enjoys to window shop. After browsing through Coach, Fendi, Juicy Couture, D&G, Kate Spade, Marc Jacobs and Roberto Cavalli, I ended up in Dior, wishing I could buy the $1400 Gaucho Saddle Bag mocking me on it's stand. I got to touch it, anyway.




I ate dinner at Ferrara's Cafe on Caesar's third-floor veranda, and was able to people-watch while I consumed my Caprese salad, Minestra di Pasta e Fagioli, and fruit tart. At the conclusion of my lovely dinner, I headed to Anthropologie to purchase some gifts for family and friends.

Monday was the first official day of the show and it was a typical busy day of meet-and-greet with press and customers. From time-to-time, we have visitors to the booth peddling their own goods and services. This one gentleman (whose name has been blurred to protect the not-so-innocent) stops by our booth, hands me his card, and walks off. Here tis:
Do you notice anything odd about the above business card? This gentleman is the CEO of a business that obviously specializes in logo creation. But where, might I ask, is the logo for his own business??? I still find this rather funny.
Monday evening, we ate at the Hofbrauhaus, a raucous german restaurant that happens to be my favorite restaurant in Vegas. The food isn't fabulous, but a live German band and saucy atmopshere make up for where the food falls short.

Tuesday was more of the same at the trade show. My destination in the evening was the Fashion Show Mall, where fashion shows are held on a runway in the center of the mall, periodically throughout the day. Traci and I ate at RA Sushi on the patio, enjoying a pleasant evening outdoors. We had a limited amount of time to shop though, and had to forego stops at Bloomingdales, Macy's, Neiman-Marcus, Nordstrom and Saks Fifth Avenue. My main goal was to shop at the Sanrio, and while I accomplished the goal, I was left a bit disappointed. The Sanrio store was smaller than Hello Kitty herself and the selection of kitschy goods was lacking.


Wednesday yielded day three of the trade show, but by this time things are beginning to slow down a bit. Our company dinner was held at Tsunami Asian Grill at the Venetian, always one of my Vegas favorites. After dinner, Marlina and I window shopped through the Grand Canal Shoppes, admiring the beautiful architecture and design of the hotel. The Venetian's ceilings are painted to resemble clouds, and they look surprisingly lifelike. The shops are decorative high-rise store fronts, placed on cobblestone streets, with a canal running through the middle. The canal even has gondola rides for tourists! I've visited the Venetian many times, but the place never seems to stop taking my breath away.

Marlina and I did some cheap souvenir shopping at Citta Delle Luci and then shopped for sassy & cartoony gifts at David & Goliath. On our way out, I stopped at a Venetian street vendor selling authentic Gelato and marveled at the beautiful display of frozen delights.

The trade show culminated on Thursday, and that evening, Marlina and I traveled to Sephora at the Venetian, the larger of the two stores in Vegas. You can't actually see Sephora from the main balcony of the Venetian, and you are required to walk this lengthy stretch of moving sidewalk in order to reach your destination. Cresting the hill of the moving sidewalk is always a surreal experience. Once I actually lay eyes on Sephora, everything begins to move in slow motion. It's like a scene in a romantic comedy---they could film me cresting the moving sidewalk hill with a look of euphoric emotion on my face. Like I've finally seen a long-lost lover or something...
Large is not an appropriate term to describe the size of this store. Huge is more like it, but who's complaining? I don't really understand why cosmetics excite me so. I love the colors, the packaging, the promise and potential they offer.
So, here's what I bought:
Cargo Bronzing Powder in Medium: This is the bronzer that I've used for a couple of years for now and I needed a replacement. It's the perfect consistency and shade. And it lasts forever. I'm just now finishing up the tin I bought last June.
Bare Escentuals Mineral Veil: Amanda gave me a B.E. makeover one night before we went to Tootsie's and I loved the way this mineral-based makeup felt. I didn't want the full foundational coverage offered by purchasing the entire starter kit, but I did want flawless, finished results with a foundation. My skin is incredibly oily and any type of liquid, cream or heavy foundations have always pooled and muddied my face. But I wasn't able to go without any type of foundation at all, so for years, I've used your run-of-the-mill pressed powder. And it's always worked fine until about 3 p.m. and the afternoon greasies still seem to re-surface. I'm hoping this product will provide a bit more coverage than my pressed powder. We'll see. I have yet to use it because I want to buy a kabuki brush, yet couldn't bring myself to justify the pricetag. I'm on the lookout!
LORAC Eyeliner in Paparazzi: I love this purchase! It's a soft, crayony pencil with silver glitter. My standard everday eyeliner is a brown pencil, so this one definitely adds some excitement to my life.
Sephora Iridescent Cream Shadow in Brown: This clickable eye shadow-dispensing pen delivers a wonderfully creamy, yet slightly sparkly, neutral, perfect for everyday wear. And it's long-lasting, too. Cream eyeshadows tend to crease and gather, but this one stays put.
NARS Blush in Orgasm: I had to see what all the hype was about--and the critics are right--this blush is amazing. It's pinky-peach shimmer is incredibly natural and perfect for everyday wear.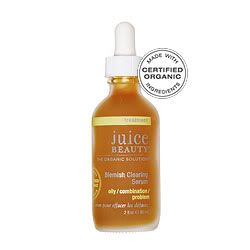 Juice Beauty Blemish Clearing Serum: The coolest thing about the Juice Beauty product line are its organic properties. I am all about natural ingredients. In the ongoing blemish war, this serum is proving to be a valuable tool. The biggest difference I've noticed is how it heals my blemishes, in addition to making them disappear. My complexion is fair and after blemishes disappear, their red, bumpy remains stick around for months. This serum is healing those little red splotches and scars, but is not overly medicated or drying. The only negative--after I spread a thin layer of this on my face at night, my face smells like fermented apple or orange juice.
Juice Beauty Redness Reducing Serum: I'm obviously fascinated by the Juice Beauty concept of organic-infused cosmetics, because I also purchased this serum to combat redness. Again, my fair skin tone creates a conducive environment for redness to foster along my cheeks. It's not quite rosacea, but it's enough redness to look blotchy at times. I've been spreading a light layer of this on my face at night before bed, but not on a consistent basis. I can tell that my stress level right now is making my face revolt, so if I can just get in the habit of using this product on a regular basis, I'm confident I will see results.
In making this list, I just realized that I entered, shopped and left a Sephora without purchasing any lipgloss!!! After browsing for two hours, I finally left Sephora and headed back to the hotel to pack for my flight out on Friday morning.
My flight was delayed on Friday morning several hours, but we made up time on the way home. Gotta love that jetstream! Each time I fly out of Vegas, I wonder, if it's my last trip to the magical city of lights, so I take a mental photograph of the beautiful strip of hotels, and burn the sight on my brain so I don't forget.
I always really love the return trip from Vegas. You can tell when the plane is rapidly approaching Tennessee. All of a sudden, the landscape becomes green and lush. As the plane descends, you can literally feel the Tennessee humidity soaking back into your skin and bones. It's a really nice feeling.
I'm for sure glad to be back in town. But despite the craziness that is the city of Vegas, the magic of Las Vegas never disappears!